Since EXTTI's founding (almost 25 years ago), Michael A. Robbins has worked on more than 700 employment cases as an expert witness and consultant. His work is divided between work for plaintiffs and for defendants. Previously, having practiced labor and employment law for 20 years, plus taught Human Resources, Mr. Robbins has extensive credentials in this area. These credentials, combined with a persuasive, authoritative style, result in an impressive presentation before judges and juries as well as before mediators and arbitrators. In 2006, Mr. Robbins was selected for "Best Lawyers in America Preferred Experts."
In EEOC v. Scolari Warehouse Stores, 488 F. Supp. 2d 1117 (D. N.V. 2007), the Federal District Court relied on Mr. Robbins' testimony as an expert witness on investigation issues, stating: "[T]his Court finds particularly instructive the expert, Michael Robbins' report." Mr. Robbins' background and experience "leads this Court to view Mr. Robbins as a reputable source of expert testimony."
Catherine A. Balin and Scott I. Barer also have conducted and guided hundreds of investigations. Ms. Balin has not only done so during her time at EXTTI, but also throughout her more than 30 years as a Human Resource Professional. Based on this human resource experience, Ms. Balin is well-qualified to testify about workplace investigations, as well as other human resource issues.
Mr. Barer conducted workplace investigations throughout his many years as a Labor and Employment Attorney. In addition, he served as Chief Labor and Employment Counsel for the Los Angeles Unified School District (LAUSD), where he supervised the District's internal investigation process. Thus, he has extensive experience in both the private and public sectors.
Bob Sniderman has many years of human resource experience. He regularly has  conducted workplace investigations in both the public and private sectors. In addition, he is a hands-on expert on the interactive process – assisting employers in their attempts to accommodate employees with disabilities. He has testified extensively both on workplace investigation issues and also on interactive process/accommodation issues.
While at the EEOC, Samantha Blake monitored state FEP agencies' ("deferral agencies") efforts to investigate harassment, discrimination and retaliation complaints filed with those agencies. Since joining EXTTI, she has conducted many investigations in a variety of industries.
All of these  professionals at  EXTTI are uniquely qualified to present expert testimony in employment litigation matters.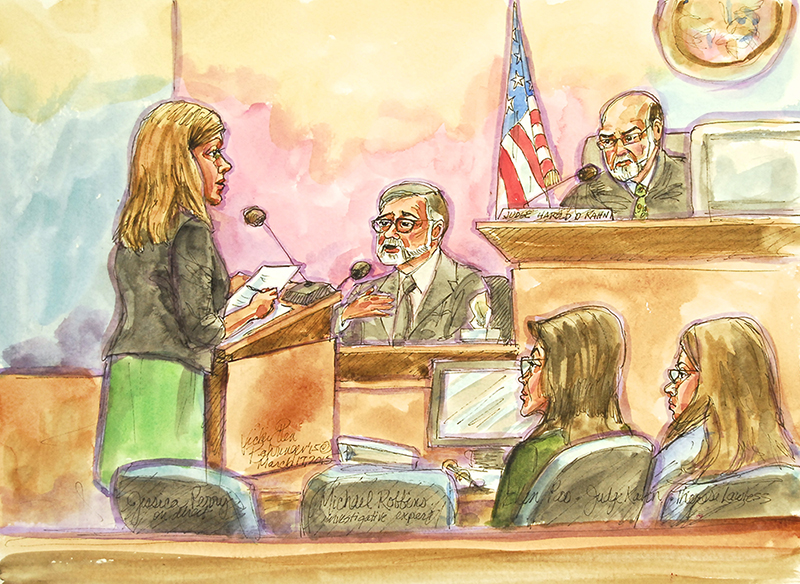 Copyright Vicki Ellen Behringer 2015  Courtroomartist.com
Michael Robbins testifying for the defense in the widely-publicized case, Pao v. Kleiner Perkins, 2015.